The mayor of Eagle Pass, Texas, blamed President Biden for the border crisis and said he has had no communication from the White House as thousands of migrants have poured into his small city.
Eagle Pass Mayor Rolando Salinas told CNN's "OutFront" Thursday that he declared a state of emergency in his city of 30,000 people after 5,000 migrants crossed over the border into the city from Piedras Negras, Mexico. Salinas said Biden has "abandoned" border communities and complained that no one from the White House has reached out amid the crisis. 
"I believe 100 percent [Biden] does, he bears some responsibility for this crisis. I haven't heard from anybody in the administration. The president hasn't put out a statement, the vice president, I haven't heard from anybody," Salinas said.
"We're here abandoned. We're on the border, we're asking for help. This is unacceptable," he stated. The White House did not immediately respond to a request for comment. 
OVER 2,200 MIGRANTS CAUGHT ON VIDEO ILLEGALLY CROSSING BORDER NEAR EAGLE PASS, TEXAS, OVERNIGHT, SOURCES SAY
The mayor said Texas agencies have been more responsive, including the Department of Public Safety, and so have Gov. Greg Abbott and federal agencies like Border Patrol. "They are helping, and they are controlling the situation, as best as they can," Salinas said. 
"But what's disappointing is that you have all of these thousands of people just walking in, without any consequence whatsoever," he added. 
Earlier this week, Fox News' drone team filmed more than 2,200 migrants heading toward Eagle Pass overnight, in one of the largest border crossings observed by Fox News in the past two years. By Wednesday, Texas troopers told Fox News that number had increased to about 4,000 people, who gathered under a bridge and were waiting to be processed by Border Patrol, in the hopes of being released into the United States. 
Many of them told Fox News that they were arriving from Venezuela, with some saying they arrived by train from Mexico. The Mexican military deployed on the Mexican side of the border, but it did not stop the migrants from crossing.
THOUSANDS OF VENEZUELAN MIGRANTS GATHER UNDER TEXAS BRIDGE AS BORDER NUMBERS SKYROCKET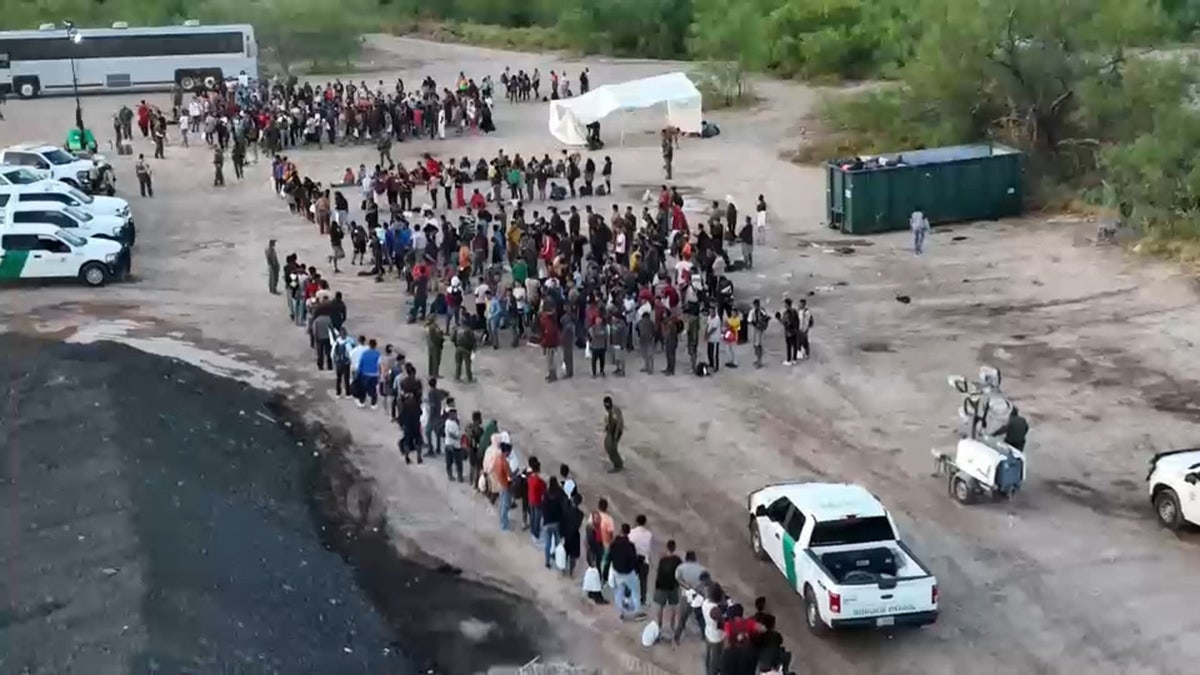 The U.S. has seen a sharp uptick in crossings at the southern border in recent days. Officials made over 45,000 migrant encounters in the last five days alone, both at the ports of entry and between them, sources told Fox on Wednesday, with multiple days of over 8,000 illegal immigrant encounters.
Sources have also told Fox News that there were around 230,000 migrant encounters in August – Customs and Border Protection has not yet released its official numbers. That 230,000 would be up significantly from over 180,000 in July and 144,000 in June. August's numbers would mark the highest for any month in 2023.
Salinas told CNN the overwhelming number of migrants has forced Eagle Pass to shut down the local international bridge between Mexico and Texas, which is a major economic engine for his city.
"It's become a big concern for the community. A lot of people are frustrated. A lot of these people are being let loose in the community, walking around. And it's just a big concern for the city of Eagle Pass. Not only safety-wise, but also our local economy is taking a hit, because of this crisis, we have to shut down the bridge," Salinas said, adding that his local government depends on the tolls from people who use it.
PERUVIAN ILLEGAL IMMIGRANTS' ALLEGED MURDER VICTIM IS US CITIZEN, SHERIFF CONFIRMS
Over the summer, the Biden administration touted a sharp drop in encounters after the ending of Title 42 expulsions in May and attributed it in part to its strategy of expanding "lawful" migration pathways, including a parole program that allows up to 30,000 migrants a month from four countries including Venezuela to fly directly into the U.S. legally. The Department of Homeland Security had pointed to an 89% drop in illegal encounters from those four nationalities as proof it was working. 
Separately, up to 1,450 migrants each day are being paroled into the U.S. at ports of entry if they use the CBP One app to make an appointment. Those programs were combined with what the administration said was an increase in consequences at the border — including restored Title 8 removals and an asylum rule limiting asylum claims if migrants entered illegally and failed to claim asylum at a third country. It has also noted that FY 2022 saw a record number of removals under both Title 42 and Title 8 authorities. It had tied the decrease in encounters from May to June as a sign that strategy was successful.
The administration has also said it can only do so much given the "broken" system within which it is working, and has called on Congress to provide more funding and to pass an immigration reform bill introduced in 2021. Republicans have rejected that bill due to its inclusion of a pathway to citizenship for millions of illegal immigrants. The House has passed legislation that would restart border wall construction, increase border security and restrict asylum claims at the border — which Democrats have outright rejected. 
CLICK HERE TO GET THE FOX NEWS APP 
As the political battle over immigration continues, Salinas is asking for the government to enforce existing laws.
"Please, just enforce the laws that are on the books," the mayor pleaded on CNN. "We are a nation of laws. That's all I ask for, is that it shouldn't be like this. We should be able to enforce laws. If you want to come here — good, come legally. A lot of people have in the past. It takes a lot of money and years to do it the right way. And it's not fair for those people that now we have thousands of people coming in, without one single consequence. It's just not fair."
Fox News' Bill Melugin, Adam Shaw and Danielle Wallace contributed to this report.