How do you know if you are buying from a trustworthy seller online? You might think that shopping on big platforms like Walmart, Amazon or eBay would protect you from fraud. That's not always the case.
Scammers can sneak in their low-quality products on these sites and trick you. So, the question is: How does this happen and what can you do to avoid being scammed online?
CLICK TO GET KURT'S FREE CYBERGUY NEWSLETTER WITH SECURITY ALERTS, QUICK TIPS, TECH REVIEWS AND EASY HOW-TO'S TO MAKE YOU SMARTER
How are scammers able to sell things on major company websites?
Some online retailers, such as Amazon and Walmart, allow third-party sellers to offer their products on their platforms. This can greatly benefit small business owners who want to reach a wider audience for their products.
The downside is that this also opens the door for scammers who post fake or counterfeit products to deceive customers. As you can imagine, this is a serious problem that undermines the trust and reputation of both the retailers and the legitimate sellers.
WHY THAT CALL FROM THE SHERIFF'S DEPARTMENT MIGHT JUST BE A PHONE SCAM
MORE: TIPS TO HELP YOU KNOW IF AN ONLINE STORE IS REAL OR A SCAM
What kinds of products do scammers typically sell?
Have you ever seen an iPhone for sale at a ridiculously low price? If so, you might have encountered a scammer who is trying to trick you into buying a fake or stolen device.
Some scammers are also selling fake counterfeit stamps, which are being advertised on Facebook for as low as $19.99 for a roll of 100 stamps.
HOW TO OUTSMART CRIMINAL HACKERS BY LOCKING THEM OUT OF YOUR DIGITAL ACCOUNTS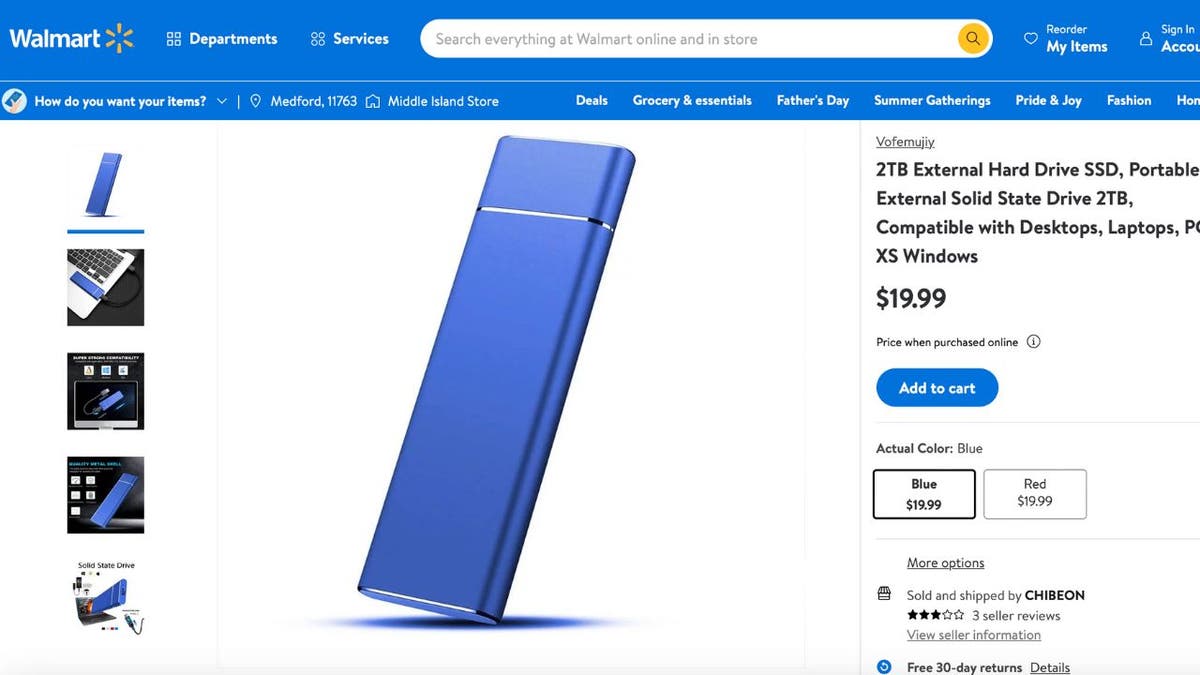 Scammers will really sell anything that they think will make them money, especially electronics. They're definitely a hot ticket for crooks since these devices often come with a hefty price tag. 
Therefore, if a scammer lists any item that is cheap, innocent buyers who are trying to save money might hop on their product without doing research first and get scammed.
Offers too good to be true
For example, at the time of writing this article, a 2TB external hard drive will typically cost at least $100.
However, at the time of researching this article, after just a few minutes on Walmart's site, I was able to find this one for just $19.99. Pretty hard to believe, right?
Walmart allows third-party products to be sold on its website. According to Walmart.com, third-party sellers are independent sellers who offer a variety of products on Walmart Marketplace. When you buy a product from a third-party seller, you are buying directly from them, not from Walmart.
Looking closer at this one, I noticed that it only has three reviews, and they're not great. Plus, the seller's page did not seem to specialize in electronics.
They sold all kinds of miscellaneous products, from pillows for kids to drawstring bags.
This isn't a product that I would trust. However, people might get excited from seeing that low $19.99 price and rush to add it to their cart.
MORE: IT'S TIME TO TAKE CONTROL OF YOUR ONLINE PRIVACY WITH AMAZON  
What should I be looking out for when shopping online?
There are a few things that I mentioned above that you should always be looking out for when shopping online, so here are some of my tips.
Check for reviews
Good reviews are a key sign to knowing if a product is good or not. If the reviews are scarce, vague or just overall negative, then it's probably best to move on and look for another product, even if it means having to spend a bit more money.
Consider the price
This brings me to my next point – the price. Of course, there are times when a company is having a big sale or you'll qualify for some special offer that will knock a few dollars off the price.
However, if a product that is typically listed in the higher price range is then listed for something obscenely low on one website, and you can't find it for that low of a price anywhere else, then this might be a red flag. Trust your gut with this one and don't just buy the first thing you see just because it's priced low.
Look at the seller's page
The person selling the product can tell you a lot about whether it's legit or not. Like with the example I showed above, if you're looking for a quality electronic device, then you're probably going to want to buy from a seller who specializes in electronics or at least has a department dedicated to electronics, not one that sells one device and then sells other random products.
You should also be able to see customer reviews on a seller's page from people who have previously bought from them, so that will give you an idea of whether they have good relationships with their buyers or not.
10 WAYS TO USE YOUR OWN DATA TO PUT DOUGH IN YOUR POCKET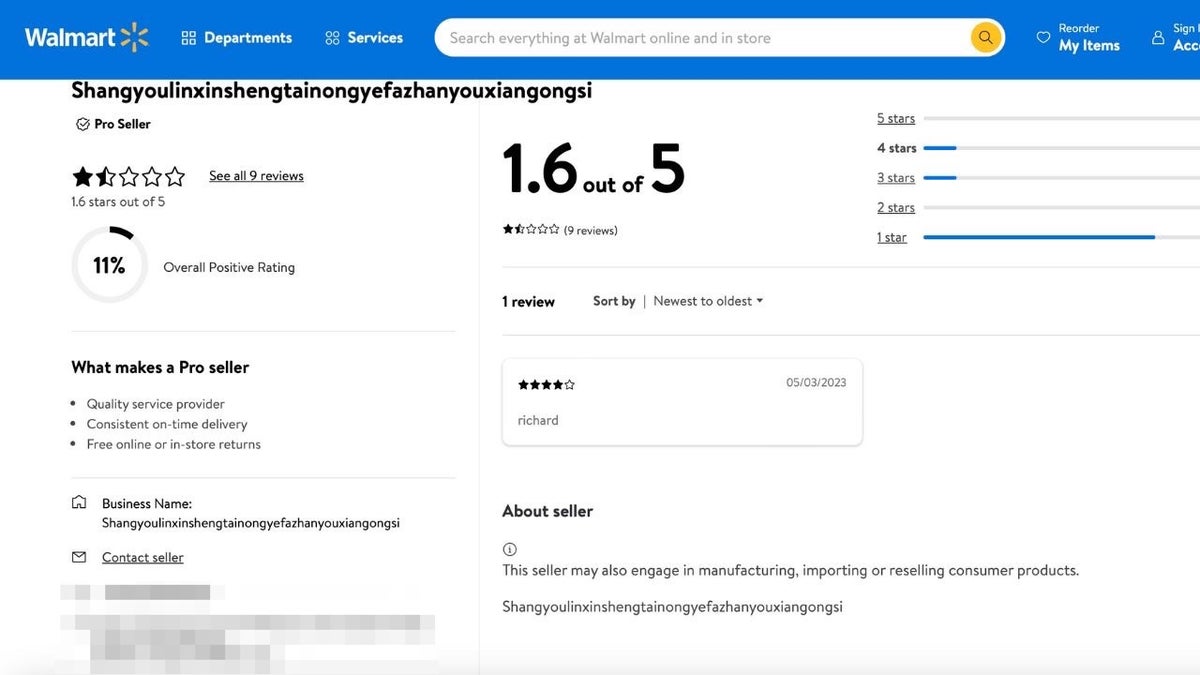 Use Fakespot to detect fake reviews and scams 
One way you can tell if the reviews are relevant to the product or just written by bots or paid reviewers is by using Fakespot. This is a tool that uses artificial intelligence (AI) to detect fake reviews and scams on Amazon, eBay, Walmart, Best Buy and other online sellers.
Fakespot analyzes the reviews and gives them a grade from A to F based on how trustworthy they are. It also shows you the adjusted rating of the product after removing the fake reviews. You can use Fakespot as a browser extension or a mobile app, and it works with most popular e-commerce platforms.
HOW TO HELP PREVENT YOUR CAR FROM GETTING STOLEN
Kurt's key takeaways
Now that this issue has become such a major one, the federal government is now requiring online retailers to do a better job of vetting seller credentials with the Integrity, Notification, and Fairness in Online Retail Marketplaces for Consumers (INFORM Consumers) Act, which went into effect in June.
The law aims to increase transparency and accountability in online marketplaces by requiring them to collect, verify and disclose certain information about high-volume third-party sellers of new and unused consumer products. The law also gives the FTC (Federal Trade Commission) and individual states the authority to enforce the law and impose civil penalties for violations.
Although this will likely make some progress, major retailers could certainly be doing more to prevent scammers from selling on their sites.
This is why we need to look out for ourselves when online shopping and always do our homework. Hopefully, this new act will force retailers to work harder to keep their customers safe.
What more do you think retailers could be doing to protect customers? Let us know by writing us at Cyberguy.com/Contact.
For more of my tech tips & security alerts, subscribe to my free CyberGuy Report Newsletter by heading to Cyberguy.com/Newsletter.
CLICK HERE TO GET THE FOX NEWS APP
Answers to the most asked CyberGuy questions:
Copyright 2023 CyberGuy.com. All rights reserved.