Social media users blasted President Joe Biden after he claimed that he taught "political theory" at the University of Pennsylvania.
Critics accused the president of making up a "pretend life" with his latest claim, as there is a lack of evidence he ever taught a class at the school, despite being named an honorary professor there in recent years.
Biden mentioned his supposed teaching years during his remarks in Maryland about the economy on Thursday afternoon.
During the speech, the 46th president took a minute to talk about the threats that democracy is currently facing in America and referenced the expertise in seeing this threat that he developed while teaching at the University of Pennsylvania.
KEY REPUBLICAN ON IMPEACHMENT INQUIRY SAYS HUNTER BIDEN INDICTMENT A 'VERY SMALL START'
Biden said, "Democracy is at stake, folks. Our democracy is under attack. And we gotta fight for it. I taught at the University of Pennsylvania for four years. And I used to teach political theory. And folks, you always hear every generation has to fight for democracy. And I found myself – it's automatic, we didn't have to believe it – but we do. We do."
X (formerly Twitter) users blasted the president's claim of teaching at the university, accusing him of making it up.
Conservative digital strategist Greg Price shared the clip to X and commented, "Biden claims he 'taught political theory' at the University of Pennsylvania. He never taught a single class at UPenn."
Author Carol Roth mocked Biden, posting, "Biden's pretend life sounds very fun and interesting."
Conservative commentator Erielle Davidson suggested Biden's supporters have a double standard when it comes to accused liars in politics. "Everyone screamed about George Santos, but when Biden does it, it's apparently fine," she wrote, alluding to Rep. George Santos', R-N.Y., alleged history of lying.
Pro-Trump X user Vince Langman wondered if the statement was evidence of Biden lying or showing signs of mental impairment. He asked, "Is this guy a late stage dementia patient. Or is he literally a serial liar. I'm not sure which is worse?"
WASHINGTON POST FACT-CHECKER BUSTS SEVERAL OF BIDEN'S GO-TO PERSONAL STORIES: 'TRADITION OF EMBELLESHING'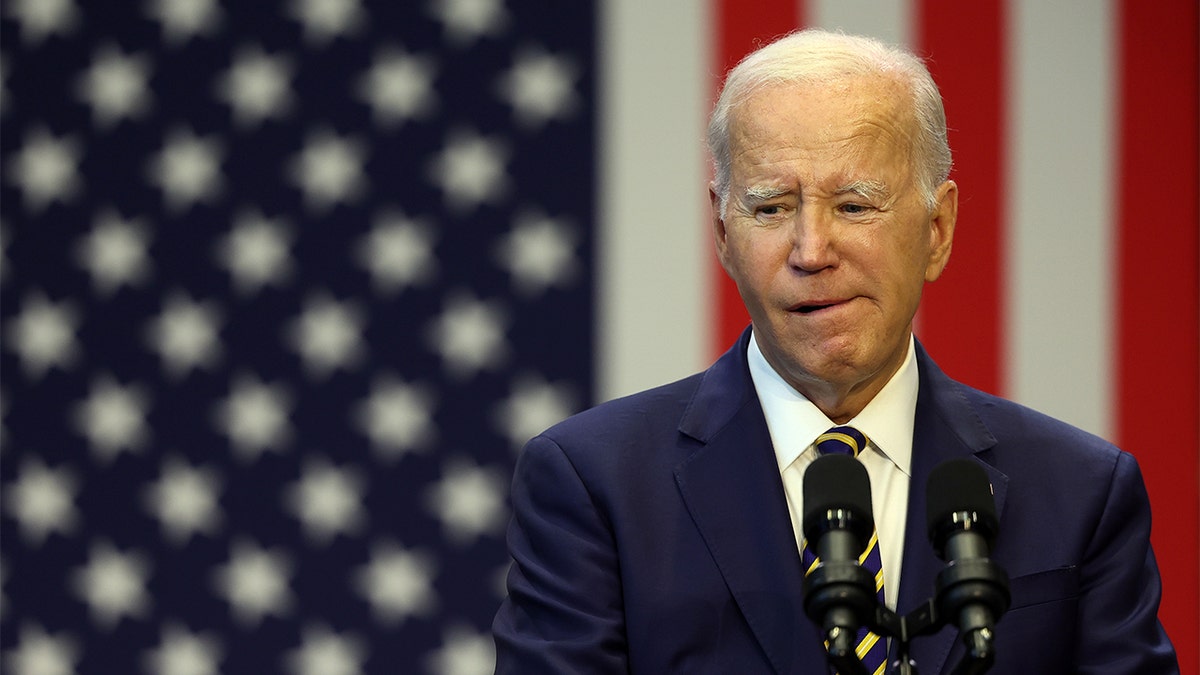 Conservative podcast host Derek Hunter tagged CNN fact-checker Daniel Dale and Washington Post fact-checker Glenn Kessler in post, writing, "Attention: @ddale8 @GlennKesslerWP, know anyone with the job of fact checking?"
GOP national spokeswoman Madison Gesiotto Gilbert commented, "Another day, Another lie."
And GOP Rapid Response director Jake Schneider added, "It's been a minute since Biden resurrected this complete lie. Must've shuffled the rolodex!"
As Biden's critics on social media claimed, there is little to no evidence that Biden ever taught "political theory" at the University of Pennsylvania. Though UPenn's website notes that the president was the Benjamin Franklin Presidential Professor of Practice from 2017 to 2021, a Snopes.com fact-check on his previous but similar claim – that he was a "full professor at the University of Pennsylvania" for four years – found that "he did not teach a semester's worth of courses" while in this role. 
Snopes did note, however, this "role was honorary. He gave lectures and talks to students on campus, but did not teach a full semester's course load during that time."
A Politifact fact-check on this earlier claim clarified that "the duration of the position was closer to two years than four, since he was on leave while running for president." It added, "Also, his duties might not conform to the full range of activities that the public might associate with the term 'full professor,' including teaching semester-long classes, conducting independent research, and handling administrative responsibilities."
It is possible that Biden's claim of teaching "political theory" was a reference to giving occasional lectures in this honorary role, but it is not certain.
Neither the White House nor the University of Pennsylvania immediately responded to FOX News Digital's request for evidence supporting Biden's claim. 
CLICK HERE TO GET THE FOX NEWS APP
For more Culture, Media, Education, Opinion, and channel coverage, visit foxnews.com/media.