Massachusetts towns are facing a "reality check" straining to provide for crowds of migrants seeking shelter in the state, according to the New York Times. 
A report from the Times Sunday detailed how the small town of Woburn, Massachusetts, and other areas in the state have been struggling to meet the demand of the migrant crisis amid the state's "right-to-shelter law."
The article characterized the locals' plight, stating, "Barely two weeks had passed since the migrant crisis arrived in their city of 40,000 people, 10 miles northwest of Boston, but the volunteers gathered at a church in Woburn on a recent evening sounded battle weary." 
It continued: "The small group of locals… had stepped up to help some 80 migrant families whom the state placed in Woburn hotels last month. Determined to offer a warm welcome, the volunteers had quickly discovered the daunting complexity of meeting basic needs, a reality check also underway elsewhere in the state and nation."
HOUSE REPUBLICANS MOVE TO USE DHS FUNDING BILL TO RAMP UP IMMIGRATION ENFORCEMENT, HIT SANCTUARY CITIES
The Times noted that Massachusetts' unique "right-to-shelter law" has only compounded the problem, stating, "In Massachusetts, the only state with a right-to-shelter law that guarantees every family with children a place to stay, the crisis has been accelerating, with more than 80 cities and towns receiving migrants to date."
Woburn Mayor Scott Galvin, a Democrat, is sounding the alarm about the law. According to the Times, "He said the situation was not sustainable, and called for state legislators to consider changes to the 40-year-old right-to-shelter law, which he said was 'passed at a different time, and was not meant to cover what we're seeing now.'"
Galvin described what his town has been facing, "We're going above and beyond, while some communities around us are not being impacted, and we don't have endless capacity in our schools. The benefits that are bestowed on migrants make the state a very attractive destination, and without some changes, this challenge is not going to abate." 
The Times reported that "the rapid influx has stressed local social service agencies and volunteer resources, and heightened political tensions, even among the state's many liberal-leaning officials and resident" particularly in Boston, its suburbs and the "less populous western half of the state."
Massachusetts Gov. Maura Healey has declared a state of emergency and activated the National Guard to help with the migrant crisis.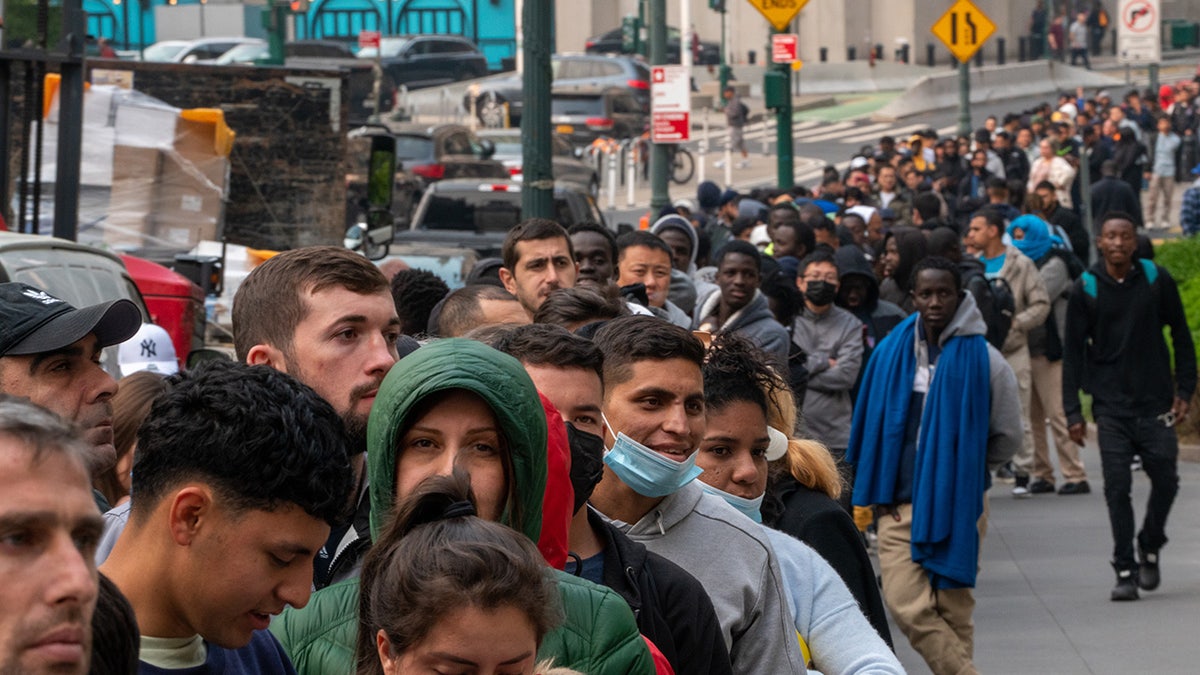 BORDER PATROL UNION HEAD SAYS REPORTED BIDEN PLAN TO KEEP MIGRANTS IN TEXAS WON'T HELP AGENTS: 'MORE RHETORIC'
Localities across the country have been reeling in the face of a migrant surge. Many of these areas are Northern blue, liberal cities that have declared themselves sanctuary cities far from the border. New York City Mayor Eric Adams recently speculated that the city could be destroyed as thousands of migrants have sought shelter in his jurisdiction, using essential services. 
The Times also spoke to one Woburn teacher, Kelley Hurley, who initially "saw an opportunity in the migrants' arrival, to help nudge her changing city toward a warmer embrace of its new diversity."
The paper noted that Hurley and her volunteers felt stretched with their newfound responsibility. "They had struggled to transport dozens of newly arrived migrants to laundromats, chafed with frustration when meals for the families arrived late from a state-contracted company, and seethed when a hospital asked for a $300 deposit from a migrant woman suffering a miscarriage," The Times wrote. 
Hurley admitted to the paper, "We wanted to take care of the families, and we're still doing that. But we're trying to be realistic."
She added, "We don't want to burn people out."
The outlet also reported the struggles to get migrant children to school in the town. It stated, "Schools have scrambled to accommodate new students. After enrolling more than 50 new students from migrant families in August, Woburn school administrators asked the city's school committee for last-minute funding late last month to hire six staff members."
In turn, committee member John Wells proposed a letter to state lawmakers "acknowledging our eagerness to help people in need, and our need for funding." 
Wells claimed, "We're taking up slack for other communities," he said, "and we need the funding to do that."
Mayor Galvin did not immediately respond to Fox News Digital's request for comment.
CLICK HERE TO GET THE FOX NEWS APP
For more Culture, Media, Education, Opinion, and channel coverage, visit foxnews.com/media.