Tim Ballard, the former Homeland Security agent and undercover operative whose experience rescuing child sex trafficking victims inspired the film "Sound of Freedom," joined Rep. Chris Smith, R-N.J., Tuesday in demanding the Biden administration find the estimated 85,000 unaccompanied minors who crossed the southern border and remain unaccounted for in the U.S.
At a press conference outside the U.S. Capitol in Washington, D.C., Smith announced new legislation dubbed the "Safeguarding Endangered Children, Unaccompanied and at Risk of Exploitation Act of 2023" or as the "SECURE Act of 2023." 
The bill aims to compel the federal government to report on efforts to locate, establish contact with, conduct wellness checks on, and investigate any suspicion of human trafficking related to the approximately 85,000 unaccompanied migrant children released from the Department of Health and Human Services (HHS) Office of Refugee Resettlement (ORR) custody "with whom subsequent contact has been lost." 
"Due to the failed open border policies of the Biden administration, we must address the tens of thousands, really hundreds of thousands of unaccompanied minors now at risk for trafficking and abuse," Smith said, before introducing Ballard as a "hero." 
Ballard said HHS data shows at least 85,000 children have "disappeared into the belly of the country that consumes more child exploitation material than any other country on the planet." 
'SOUND OF FREEDOM' FILMMAKERS RESPOND TO CRITICS: MOVIE 'NOT IN THE LEAST BIT POLITICAL,' DESIGNED TO UNITE
"This should horrify every American," he said. "We refuse to enforce the borders." 
According to statistics kept by U.S. Customs and Border Protection, at least 345,000 children have crossed the United States southern border unaccompanied since early 2021, according to a copy of the bill obtained by Fox News Digital. The legislation states thousands of these children have been victims of child sex trafficking, forced child labor, or child sexual exploitation and abuse, or some combination of these crimes. 
HSS, through its ORR, was and is responsible for the well-being of these children up through repatriation or placement in safe homes within the United States. HSS and ORR "have lost contact with as many as 85,000 of these migrant children after placing them with sponsors in the United States and their locations and well-being is currently unknown," the bill says. 
Ballard recalled how he met with the presidents of Honduras, Xiomara Castro, and Guatemala, Alejandro Giammattei, on the issue last week. 
"Politics over children is what we're doing in this country," Ballard said. "Interestingly, President Castro of Honduras is very socialist, the president of Guatemala is very conservative, and yet they told me the exact same thing. Their women and their children are being put in a situation that is terrifying. And it's all thanks to who? The United States of America. Because we open our borders and it's a vacuum. The traffickers love us."
"According to the New York Post, the traffickers along the Mexican border are making $14 million a day. I believe that," he said. "I spent ten years on that border. I believe it. Millions are coming through these countries. They can't handle all the movement through the countries. Children are being lost along the way." 
GOP REP AT 9/11 TERROR HEARING BLOWS HOLE THROUGH CLAIM NYC MIGRANTS FULLY VETTED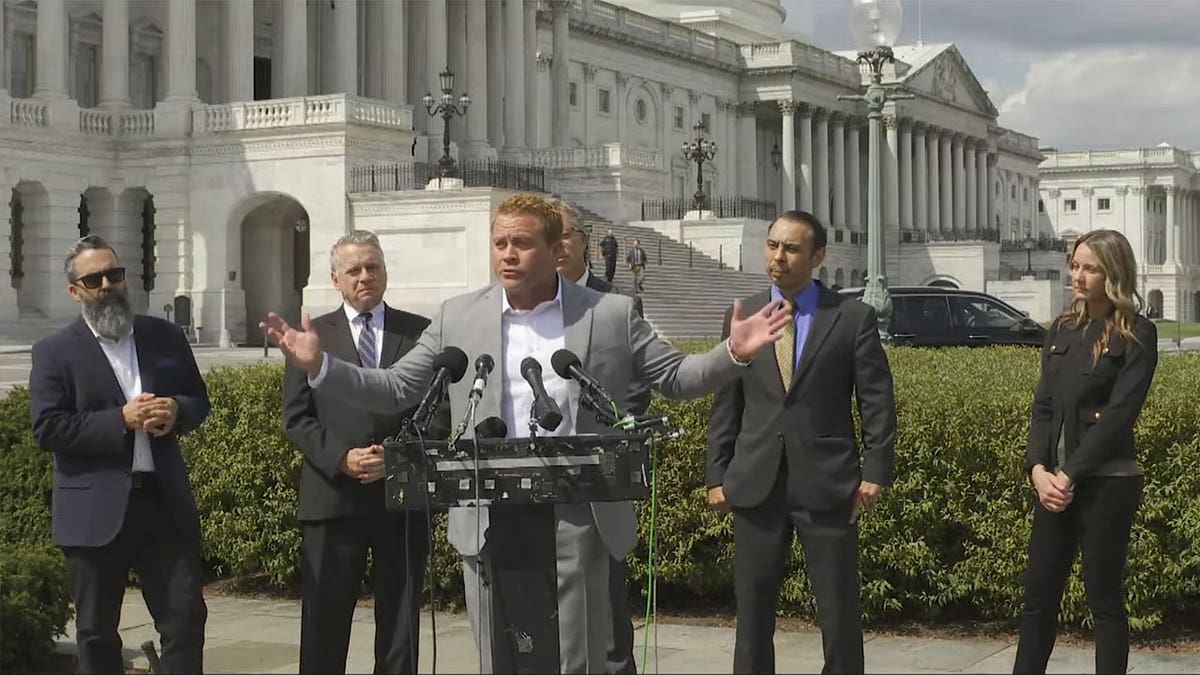 Ballard explained that migrant children often enter the United States with the name or phone number of a so-called "sponsor," and because these individuals are not properly vetted as a child's proper guardian, he argued the Biden administration's policies result in that Border Patrol, DHS and HHS personnel "have become child trafficking delivery services." 
"I propose to you that foreign children are children of God. Just as much as any American child is a child of God. And they deserve the exact same protection," Ballard said. "Background checks, DNA, the whole gamut. Do not release these children into the United States. 85,000 are missing, and that's thanks to the Biden administration. They did this." 
Ending with the line from the "Sound of Freedom," Ballard said, "We do all this because God's children are not for sale." 
Under the legislation, HHS, the Department of Homeland Security (DHS) and the FBI would be required to jointly submit a report to the House and Senate Judiciary committees, the House Energy and Commerce Committee, the House and Senate Homeland Security committees, and the Senate Committee on Health, Education, Labor, and Pensions every 60 days on the status of all unaccompanied minors in the custody of ORR since Jan. 1, 2021, who have been released and resettled with a parent, family member, or sponsor in the U.S.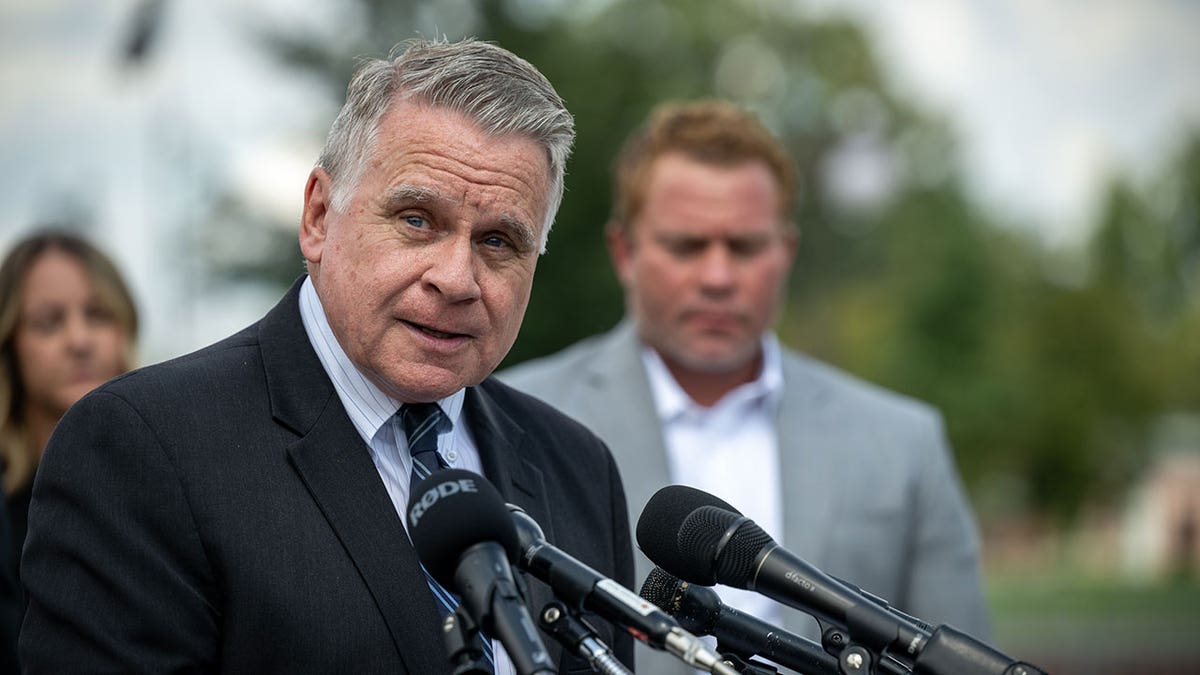 Those agencies would be compelled under federal law to locate the minors, assess each child's risk of trafficking, exploitation and abuse, and ensure that adults in their new homes have been properly vetted for criminal history. 
The bill also seeks to penalize HSS, DHS, and the FBI $100,000 in "unobligated funds" for each day the required status report is submitted late, not exceeding $10 million in a fiscal year and compel the reports to continue until HHS, DHS, and FBI "have adequately accounted for the missing unaccompanied children or after three years have passed since the submission of the first report, whichever comes first."
CLICK HERE TO GET THE FOX NEWS APP
Despite liberal critics and some media outlets attempting to attach the movie to the right-wing conspiracy group QAnon, "Sound of Freedom" director Alejandro Monteverde and co-writer Rod Barr have insisted the film is not political in nature and tells the true story of Ballard, a former government agent working to spread awareness about human trafficking.  
Smith's office describes the congressman as a longtime advocate for trafficking victims and author of the 2000 Trafficking Victims Protection Act and four additional anti-trafficking laws, while Ballard founded Operation Underground Railroad, which has helped conduct over 4,000 operations, has impacted over 7,000 lives and has been involved in over 6,500 arrests.