Chaos erupted at a Southern California district's school board meeting Thursday, when communist protesters clashed with parents' rights activists.
At the meeting, the Orange Unified School Board passed a parental notification policy similar to ones passed in five other districts across the state, that would require staff to notify parents when their child identifies as transgender. 
Before the deciding vote, members of the Revolutionary Communist Party disrupted the event, with one shouting down supporters with a megaphone. This led to a shouting match between both sides before the communist protesters were ushered out by officers, the Los Angeles Times reported.
CALIFORNIA BECOMES FIRST US STATE TO RECOGNIZE 'TRANSGENDER HISTORY MONTH'
During the open-comment portion before the disruption, a woman who identified herself as a member of the radical group objected to discussing the policy with "fascists."
"We're getting organized for a real revolution to get rid of the system," she told the audience. "Any kind of trying to negotiate with any of these fascists in the room, on the board, is illegitimate."
She then called for anyone "with humanity for LGBTQ people" to "get ready for a revolution to overthrow this whole system that gave birth to this White supremacy and this male supremacy."
CALIFORNIA MOM CLAIMS DEMOCRATS 'TRYING TO LEGISLATE FIRST AMENDMENT OUT OF EXISTENCE' WITH SCHOOL BILL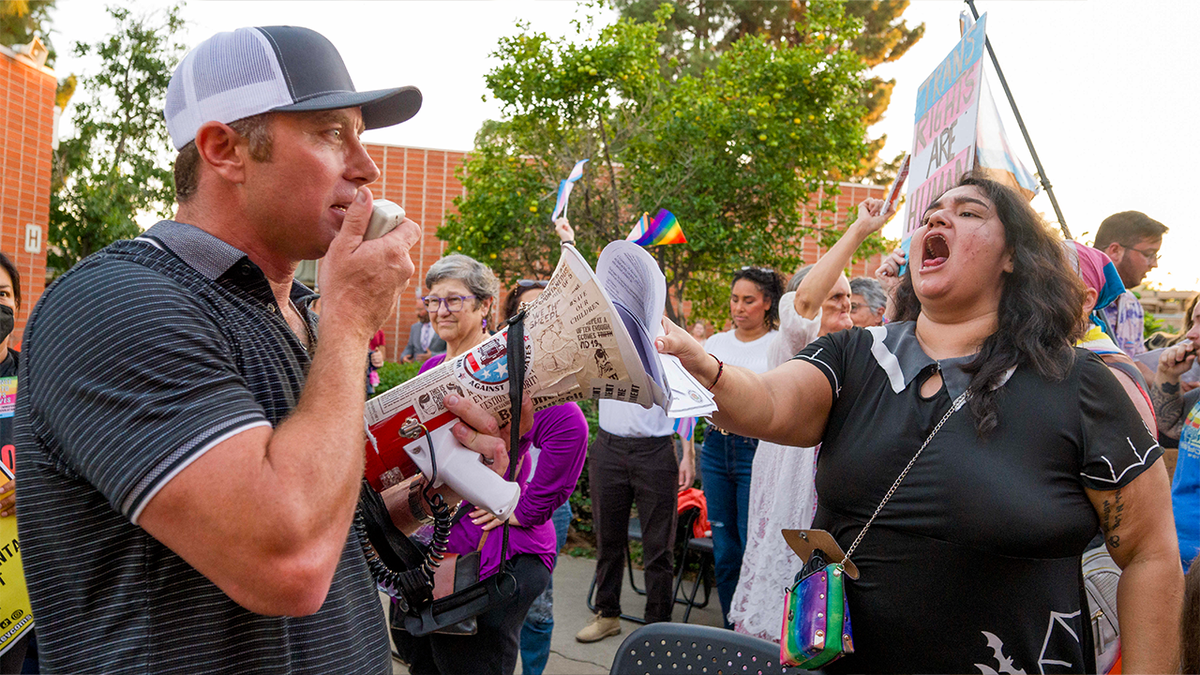 Another speaker with the group warned the country was headed toward a "crisis" "of Christian fundamentalist fascists going for power." She called on opponents of the policy to be "brave" and gear up for an "all-out fight to bring into being a new society."
Videos of the speakers were shared on X, formerly known as Twitter, by Protect Kids California activist Jonathan Zachreson.
The school board ultimately voted to pass the policy shortly before midnight on Thursday. The resolution passed unanimously, after three board members who were opposed to the measure walked out in protest.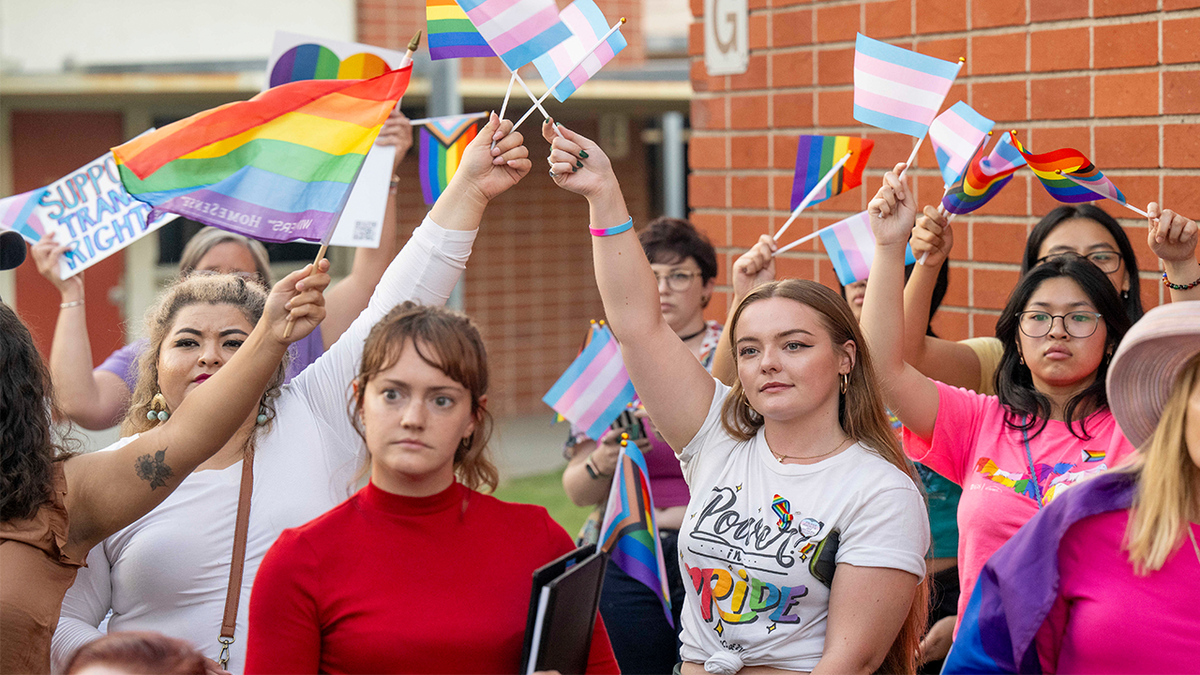 CALIFORNIA JUDGE SUGGESTS SOME PARENTS POSE 'DANGER' TO TRANS STUDENTS AFTER BLOCKING NOTIFICATION POLICY
The vote came one day after California Attorney General Rob Bonta sued Chino Valley Unified School District for passing a similar policy in July, arguing these policies "unconstitutionally discriminate" against LGBTQ students and violate their privacy rights.
The Revolutionary Communist Party told Fox News Digital the two speakers were Michelle Xai and Lucha Bright, "revcoms (revolutionary communists) and members of the Revolution Club, Los Angeles." 
The communist group said it opposed the parental notification policy because "it's a fascist violation of the rights, privacy and lives of LGBTQ youth by outing them against their will. This policy is not about 'parent's rights,' it's about terrorizing LGBTQ people."
"This policy is part of a larger Christian fascist movement with a theocratic agenda of ruling through open White supremacy, male supremacy, and open violence and terror," a spokesperson said. "These fascists – at the school boards, in the courts, and throughout society – are moving to steal elections they lose or resort to outright violence if necessary to impose this agenda. The revcoms are organizing to defend the people from fascist attacks as part of moving to abolish and dismantle this whole system which gives rise to this, to replace it with a new socialist system that empowers people to uproot oppression of any kind."
CLICK HERE TO GET THE FOX NEWS APP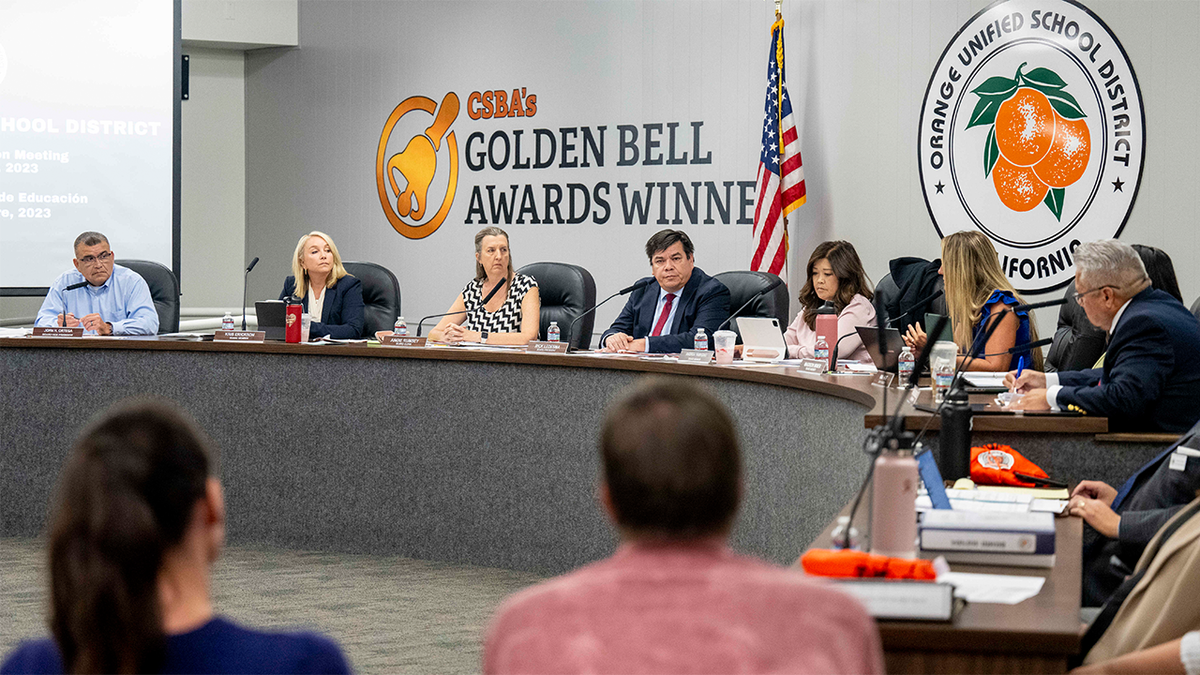 The Orange Unified School District referred Fox News Digital to the new policy when reached for comment.
The policy states that if a student requests a desire to be treated as a gender other than his or her biological sex or expresses feelings of gender dysphoria to a school counselor or psychologist, the parent or guardian will be notified within five school days.
The policy also says that a school counselor or psychologist may choose not to disclose this information to parents if they have "a reasonable belief that informing the parent(s)/guardian(s) creates a clear and present danger to the pupil" but the school official "must record the specific basis for his or her belief, in writing."
The district says its policy is intended to "promote communication and positive relationships with parents" and "bring the parent or guardian into the decision-making process for mental health and social-emotional issues of their children" to "prevent or reduce potential instances of self-harm."
For more Culture, Media, Education, Opinion and channel coverage, visit foxnews.com/media